MSI stands for 'Meses sin intereses', or installment payment, in Spanish. It allows you to pay the total cost divided into several months.


Problem
There are approximately 12% of orders canceled due to the MSI issue. The customer thought that MSI is not applied to their orders, because there was limited information on MSI in the post-checkout experience to check it.


What's the current process of applying MSI?


The MSI is currently being applied by order: One order, one credit card, and one installment option. You will see the MSI option after you select the credit card(bank) you want to use. Once you opt-in MSI, you will choose the number of months to divide the total. At the same time, the checkout shows which items will be applied or not, and the monthly payment of MSI.


What questions were asked by the customers?
We gathered the questions asked by the customers from the Call center regarding their MSI inquiries of the order. The top 3 questions were;

Is MSI applied on the order?
Why do I see the total amount of the order in the bank transaction even MSI applied?
Which item is MSI applied?

These questions are from the issue of missing information.


Competitors audit of visibility
We took a look at our current checkout flow to see which options were exposed for the customers to choose from. Also, we audited checkout and post-checkout flow from the competitors for benchmarking.


Hypothesis
I organized the inquiries we were receiving from the customers and the information visibility from the competitors. And then I finished the hypothesis of the experience which the customer may expect...

Customer wants...
To see the information after the order confirmation




To confirm if the MSI applied properly




To check what payment method they choose




To validate MSI applied items




To have more detailed information:

how much they will pay,

how long they will pay
To know what's happening next


Proposal
Based on the hypothesis, I provided...

Order level information: Which bank chosen, MSI applied portion
Item level information: MSI Eligibility
MSI information: Total amount, monthly amount, what you will see in your bank transaction
Support line

1) In Order detail page
Order confirmation email and order confirmation page have the same information as the order detail page that allows the user to check/confirm the information without extra steps.



2) Order list page
Since there are more traffic in the order list page than the order detail page, I added a order level line in the list. It shows the portion of MSI applied and leads the users to see the detail in the deeper level.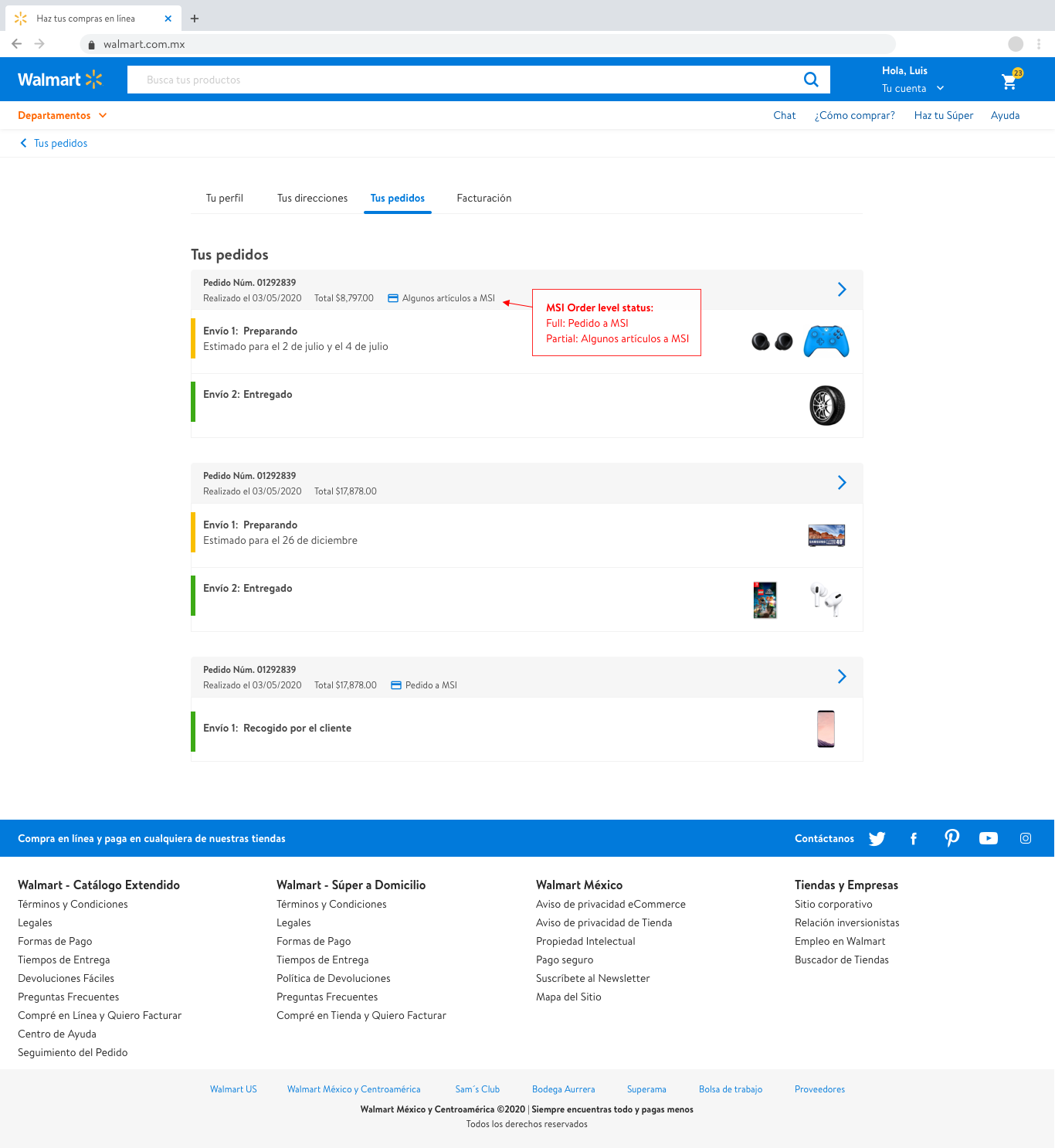 Analytics
It just launched(20Q3) and we are collecting the numbers now. We are seeing a reduction in the number of cancellations due to MSI.




Projects [Intro] [MSI] [Illustration Guideline]